It is Hodgepodge time again. Here are my responses to this weeks questions. If you want to play along copy and paste the questions to your blog and jump over to Joyce's blog by
clicking here
and link to the party. Hope your week is AWESOME!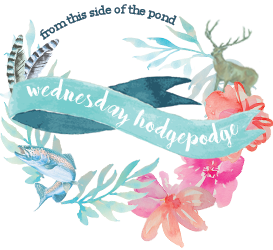 1. April showers bring May flowers or so the saying goes. Has your April been filled with showers? Do you carry an umbrella, wear a slicker, or make a run for it? Besides rain, what else has filled your April? I carry an umbrella but usually just make a run for it. My April has held a good bit of rain, but fortunately it was gorgeous on Easter Weekend so I had a dry weekend and gorgeous weather. My April has held end of the year beginnings, weddings, birthdays, and fun....oh my!
2. What's something you could you give a 30-minute presentation on at a moment's notice and with zero preparation?
Being a Proverbs 31 woman and I have a presentation I have done several times at Women's events called Musical Bridges that is the story of the music in my life.
3. Share with us a favorite food memory from childhood.
From the time I was 3 and old enough to gnaw on a rib bone my dad always cooked ribs for our birthdays. His birthday was the 14th of April and mine is the 15th. Ribs has not been my birthday meal since my dad died in 2009.....this year our neighbor and good friend, Tracey cooked ribs on my birthday. It was heavenly!!!!! I loved it!
4. What's a song you thought you knew the lyrics to, but later discovered you were wrong?
Ahhhhh Mondegreens. I love them. The saying comes from a poem, "They shot the Earle of Morray and Lady Mondegreen." The actual line is "They shot the Earle of Morray and laid him on the green." I have several of these misheard lyrics. My worst one is from the song, Sitting on the Dock of The Bay." I always thought it had a bad word in it....and of course as a child loved saying it. I heard the line "Watching the ships roll in....." as "Watching the Sh#t roll in."....for years. It made perfect sense to me. The other was "There's a Bathroom on the right/There's a bad moon a risin'" and the infamous Hendrix's lyric, "Scuse me while I kiss this guy/Scuse me while I kiss the sky."
5. According to
one travel website
, the most overrated tourist attractions in America are-
Niagara Falls (NY), Hollywood Walk of Fame (California), Times Square (NYC), Epcot (FL), Seattle Space Needle (WA), and Faneuil Hall and Quincy Market (Boston). How many of these have you seen in person? Did you feel like a tourist? Did you care? Tell us about a place (not on the list) you've visited that might be considered a tourist trap, but you love it anyway.
I have been to all of the above and loved them. I was at Niagara Falls when Nick Wallenda walked across it. It was amazing. I love the hustle and bustle of Times Square and fell in love with Mt. Ranier in Washington from the Space Needle. Frank and I went to Disney World a few years ago and I have to say....as an adult I LOVED Epcot. The cultural aspect and the foods from other countries was amazing. I guess of all the Disney Properties....Epcot is my favorite. As far as feeling like a tourist. I don't care and I usually research the places I am going to I feel like a native. I love Nashville....but it is so pricey and I would consider it to be a tourist trap.....I bought a pair of boots in a Nashville boutique and paid a pretty penny for them. I found the same pair of boots at DSW in Birmingham for half the price....and not even on sale.
6. Your signature clothing item?
Simple....jeans, my Birkenstocks, and a tee shirt...my favorite is my Ron Jon's shirt. I would wear them to church on Sunday.....if I wasn't the preacher. LOL
7. What's an experience
you've
had you think everyone should experience at least once? Why?
Hearing the Mormon Tabernacle Choir sing, The Hallelujah Chorus, in Salt Lake City. It was breathtaking.
8. Insert your own random thought here. Today is East meets West Day....and I thought I would share one of my favorite songs. Have an awesome last week of April.