Welcome to the new and improved Wednesday Hodgepodge! Less questions, more fun! For Joyce anyway.
teehee
Thanks for playing along today. If you've answered the questions add your link at the end of my post by
clicking here
, then go say howdy to your neighbor. Here we go-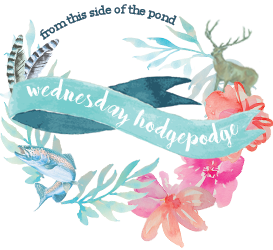 1. Share a favorite memory of your mother
or
share a favorite something from your own life as a mother. If you're a mother (or stepmom) tell us how your experience as a mom differs from your own mother's experience.
All my mother stories are not good ones. Some of my memories are sad and filled with bad feelings.....BUT....when I was young just like Joyce, my most favorite memory of my own mom is sitting snuggled up beside her on the living room couch or in my bed while she read to me....or I read to her.....or we just both read. Reading was a big thing in my family. Another memory was Thursday night board game night. It was just the three of us and so much fun. I also remember her teaching me how to sew. She could see a dress, cut a pattern using a brown paper bag and produce something that was amazing. Oh the stories I could tell. I read to my children too and they read....I am not say they all love it as much....but they do it. I am blessed that the last six years of my mom's life were with me and a lot of the hurt feelings from childhood were dealt with.....there was a lot of forgiveness happening then. I wish I could have one more Mother's Day with her.
2. In May we celebrate teachers (May 9) and nurses (May 6) both. Most every family has at least one in their midst, so tell us something (or a few things) you appreciate about the teacher or nurse on your family tree.
I teach. My daughter was an Early Childhood Special Ed teacher(a double whammie in my books) and easy to appreciate. She was an amazing teacher. She and her husband, Brian are now missionaries through Stella's voice in Moldova. She still loves to substitute when she gets a chance.....at a school in Moldova. My granddaughter, her husband, my aunt, my cousin....and several more are all nurses. I admire them for what they do.
3. Chicken salad, egg salad, tuna salad...which would you go for if all three were on the menu? On bread or a bed of lettuce?
If you answered bread, what kind of bread would make it the perfect sandwich? I would choose the combo meal that had all three. I like them on bread and on crackers. I like all bread too...so I am set either way.
4. Do you have a desk? Is it organized? If so, share your secret to keeping it that way. If you don't have a desk, where in your home do you take care of family paperwork and business? Where do you normally sit to blog?
I have a desk at work and at home and it's organized for me. I sit wherever when I blog. If I am at school I blog at my desk....but at home I will blog inside, outside, at my desk, on the couch....anywhere.
5. When I was nine years old....
I got a Schwinn bicycle for Christmas, my brother died, I read, I loved the beach and we went almost every day, I loved swimming, I loved roller skating, I played with dolls, I took piano lessons and hated every minute, I loved to sing, I went to church, I learned to play guitar. I was in the fourth grade at Belvedere Elementary and my teacher was Mrs. Hayes.
6. Insert your own random thought here. My Godmother died this week. My heart is heavy. I loved her from the moment my mom put me in her arms when I was 18 months old. The picture below was on my Christening Day at Comer Methodist Church. Did you have Godparents when you were a child?