I was having a hard time coming up with an "I" word this morning so I asked one of my favoritest students in the world for an idea. I asked her if I gave her the letter "I" what would it mean to her? Her response was "I" is for Ice Cream. Ice Cream brings back some wonderful memories for me. On Friday nights when my father got paid we would go to Howard Johnson's for a clam strip dinner and ice cream. My favorite was butter pecan. Nobody made butter pecan ice cream like Ho Jo's did.
They had 28 flavors and I was a huge fan of most of them. Ice Cream was always a special treat so I really looked forward to getting it.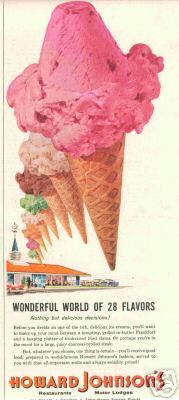 But alas you just don't find Ho Jo's around anymore. Sigh! Another piece of Americana has bit the dust. As a child I remember many wonderful summer afternoons making homemade ice cream at my grandmothers. I loved it when the ice cream provider got creative. I have had grapico ice cream, (Grapico Ice Cream - 2 liter Grapico (or any other fruit flavor) and 3 cans of condensed milk. Stir together Grapico and condensed milk. Refrigerate overnight or at least 6 hours until mixture is chilled. Freeze in an ice cream maker according to manufacturer's directions.) Yoohoo (Celia still makes this for me on special occasions), (Yoo Hoo Ice Cream - 8 bottles of yoo-hoo and 2 cans (14 oz each) sweetened condensed milk (not evaporated milk) Make sure the yoo-hoo and canned milk are very cold. Stir together in your ice cream freezer's canister. Proceed per manufacturer's directions. This ice cream is yummy!) of course I love all the standard flavors. There is only one ice cream I have never liked and that is coffee. I drink coffee....hot. I do not like it cold or frozen and I do not like it in ice cream. On the hottest day of the year....or coldest night....Ice Cream is my most favorite treat.