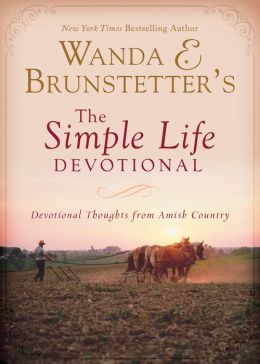 About The Book: Feeling too busy and stressed? Take a literary tour of Amish country, and learn a few practical life lessons drawn from this unique culture. Millions visit ""Amish country"" each year to enjoy the relaxed family atmosphere of this unique culture. What can we as ""English"" (non-Amish) people learn from this lifestyle? Wanda Brunstetter, author of the best-selling Amish-themed novel The Storekeeper's Daughter, offers sixty intriguing and encouraging lessons in her devotional The Simple Life.
About The Author:
Wanda Brunstetter is an award-winning romance novelist who has led millions of readers to lose their heart in the Amish life. She is the author of over 60 books with more than 7 million copies sold. Many of her books have landed on the top bestseller lists, including the New York Times, USA Today, Publisher's Weekly, CBA, ECPA, and CBD. Wanda is considered one of the founders of the Amish fiction genre, and her work has been covered by national publications, including Time Magazine and USA Today.

Wanda's fascination with the Amish culture developed when she met her husband, Richard, who grew up in a Mennonite church, and whose family has a Pennsylvania Dutch heritage. Meeting her new Mennonite sister-in-laws caused Wanda to yearn for the simpler life. In their travels, she and her husband have become close friends with many Amish people across America. Wanda's desire to explore their culture increased when she discovered that her great-great grandparents were part of the Anabaptist faith.

All of Wanda's novels are based on personal research intended to accurately portray the Amish way of life. Many of her books are well-read and trusted by the Amish, who credit her for giving readers a deeper understanding of the people and their customs.

Wanda's primary attraction to the Amish is their desire to live a devout Christian life that strives to honor God, work hard, and maintain close family ties. Whenever she visits her Amish friends, Wanda finds herself drawn to their peaceful lifestyle, sincerity, and close family ties, which is in stark contrast to the chaos and busyness that plagues so many modern "Englishers." Time and time again, Wanda loses her heart in the Amish life, and she hopes her readers will, too. For more information, visit: www.WandaBrunstetter.com
My Thoughts On The Book: Loved! Loved! Loved it! This book is a wonderful mixture of scripture, quotes, Amish stories, and wonderful Amish recipes. I cannot wait to try the recipes out. No matter what religion you may be this is a refreshing book to uplift your spirit. A must have and it would be a great gift for a dear friend.
Disclosure of Material Connection: I received this book free from Netgalley Publicity Group as part of their Book Review Blogger Programs. I was not required to write a positive review. The opinions I have expressed are my own. I am disclosing this in accordance with the Federal Trade Commission's 16 CFR, Part 255: "Guides Concerning the Use of Endorsements and Testimonials in Advertising." Thank you! Thank you! Thank you!