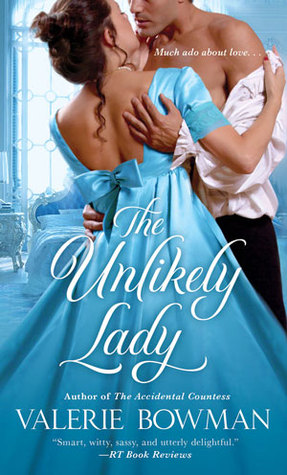 About The Book: Certain that no man wants a bluestocking for a wife, Miss Jane Lowndes is careful to wield her books and her spectacles as weapons against matrimony. Convincing her ambitious mama that she's content to stay a spinster is easier said than done, however. It's a good thing Jane is not above a bit of manufactured scandal if it will keep her from the altar, and the argumentative, contrary Lord Garrett Upton… ROMANCE IS NEVER BY THE BOOK. With the war over, Garrett is determined to enjoy his bachelor's life while he can, even when it means attending a house party in celebration of a friend's wedding--and suffering Jane's notorious disdain. But when a masquerade ball leads to a mistaken kiss, he's surprised to learn that Jane's bookish exterior hides a truly passionate soul. When two such headstrong people are determined to remain unattached, can love lead to a happy ending?
About The Author: Valerie Bowman is an award-winning author who writes Regency-set historical romance novels aka Racy Regency Romps!?Valerie's debut, SECRETS OF A WEDDING NIGHT, the first in the Secret Brides series from St. Martin's Press, was nominated by RT Book Reviews for Best Debut Historical for 2012!?SECRETS OF A RUNAWAY BRIDE was named a 4.5 star TOP PICK! by RT Book Reviews. It's been called "Too Delightful Too Miss!" by New York Times bestselling author, Lisa Kleypas, and New York Times bestselling historical romance author Sarah MacLean says it's, "Everything a romance should be--sexy, quirky, fun...once you start reading, you won't be able to stop!"? Valerie has a B.A. in English Language and Literature with a minor in history from Smith College. By day, she is a technical editor at a computer software company. By night, she combines her love of writing, history, and romance to craft stories about people falling in love. Originally from Rantoul, Illinois, Valerie lives in Jacksonville, Florida with her family including her rascally rescue dog, Roo. When she's not writing, she keeps busy reading, traveling, or vacillating between watching crazy reality TV or PBS.
My Thoughts On The Book:
I have never read anything by Valerie Bowman, but I will read her again. She is amazing. She is the kind of author that draws you into the book before you realize what has happened. The romance in the story was sweet. The characters were life like. From start to finish I could not put it down and cannot wait for another. Great read, Great author!
Disclosure of Material Connection: I received this e-book free from NetGalley as part of their Book Review Blogger Programs. I was not required to write a positive review. The opinions I have expressed are my own. I am disclosing this in accordance with the Federal Trade Commission's 16 CFR, Part 255: "Guides Concerning the Use of Endorsements and Testimonials in Advertising." Thank you! Thank you! Thank you!