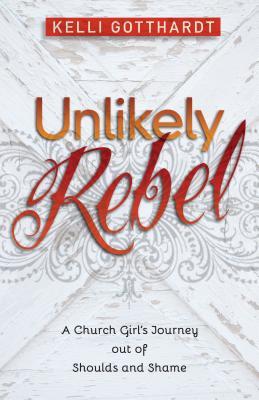 About The Book: No formulas, no pat answers. Just real life. Real questions. Real transformation.Approach many women in the church and if they re being honest, they'll tell you they
try hard to keep it all together; are frustrated that being good doesn't deliver the perfect life;
feel trapped in expectations; make decisions based on shoulds ; feel selfish when they say no; and are uncertain of their place in God s kingdom. Between the desire to please God, the need to feel valued, and the compulsion to make everyone around them happy, women often find themselves denying their desires. It s safer to stay in the life of shoulds even if it means being spiritually and emotionally disconnected. Kelli Gotthardt knows their pain. Always considered a good girl, she threw herself into every ministry, saying yes to every request her church family made. On the outside, her life looked completely together but she was drowning in self-doubt and shame. Unlikely Rebel is the story of how Kelly slowly shed shoulds and shame, learning to love God and love who He created her to be. The journey from the comfort of doing everything expected of a perfect pastor s wife to the uncertainty of living authentically and true to her unique calling is equal parts exhausting and exhilarating. Many Christians condemned her, responding with fear or anger to her greater intimacy with God s calling when it didn t match their own vision. For others, though, her journey inspired courage to embrace God s path for their own lives. Now Kelli invites other women to discover God s leading in their lives, learning that if they throw off the despondency of underserved shame, abundant life awaits.
About The Author: Kelli Gotthardt - is a pastor's wife, international speaker, and leadership consultant. She holds a Master's degree in spiritual formation, and helps Christian leaders develop life rhythms for sustainable ministry.
My Thoughts On The Book: As a pastor's wife and pastor myself I have to admit I was drawn to the book from the moment I saw the title. T
his book could easily have been my own story. I grew up in a household with parents who believed you went to church every Wednesday night, Sunday am and Sunday pm. I was more active in church than I was at school. Church was my life. I was always in the lime light because my parents were leaders in the church we attended so I always had to be good. I had a low self-esteem as a child and so the need to be in every activity, choir, and group was my main goal. I wanted to be validated and church was where I got that. I believed you could never say no...because if you did....you would lose your talent. So I sang in all three choirs and New Dawn. I was terrified that if I ever turned down something I would lose my voice. I didn't marry a pastor. I married Frank....and after a dream about being poor at seminary he told me that God had been calling him for years.....so I became a pastors wife. Believe me...being a pastor's wife is not easy. I did not want to let God down so I never said no to anything. The book deals with a number of topics that are not usually discussed and she offers insight into the way to come to the light out of the darkness. I would recommend this book to any woman's book study group because it deals with topics that most of the time get pushed under the rug. Loved it!
Disclosure of Material Connection: I received this e-book free from Kregel Publications as part of their Book Review Blogger Programs. I was not required to write a positive review. The opinions I have expressed are my own. I am disclosing this in accordance with the Federal Trade Commission's 16 CFR, Part 255: "Guides Concerning the Use of Endorsements and Testimonials in Advertising." Thank you! Thank you! Thank you!