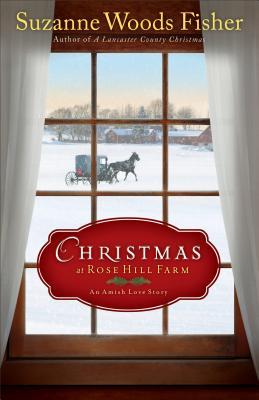 About This Book:
Bess Riehl is preparing Rose Hill Farm for her Christmas wedding, but her groom isn't who she thought it would be. Billy Lapp is far away from his Amish roots working as a rose rustler for Penn State and wants nothing to do with Stoney Ridge, his family, or Bess. And that suits Bess just fine. Why should she think twice about a man who left without a word, without any explanation? It's time she moved on with her life, and that meant saying yes to Amos Lapp, Billy's cousin and best friend. But as Bess and Amos's wedding day draws near, her emotions tangle into a tight knot. She loves Amos. Yet she can't forget Billy. When a "lost" rose is discovered at Rose Hill Farm, Billy is sent to track down its origins. Get in, identify the rose, and get out. That's his plan. The only catch is that he's having a hard time narrowing down the identity of the lost rose, and he can't get those tropical blue eyes of Bess Riehl out of his mind. As the history of the lost rose is pieced together, it reminds Bess and Billy--and Amos, too--that Christmas truly is the season of miracles.
Join bestselling, award-winning author Suzanne Woods Fisher for an Amish Christmas to remember. Filled with heart-twisting moments amid the sweet anticipation of love, this story will charm readers into the holiday spirit.
About This Author: Suzanne Woods Fisher is the bestselling, award winning author of fiction and non-fiction books about the Old Order Amish for Revell Books, host of the radio-show-turned-blog Amish Wisdom, a columnist for Christian Post and Cooking & Such magazine. Her interest in the Amish began with her grandfather, who was raised Plain. A theme in her books (her life!) is that you don't have to "go Amish" to incorporate the principles of simple living. Suzanne lives in California with her family and raises puppies for Guide Dogs for the Blind. To her way of thinking, you just can't life too seriously when a puppy is tearing through your house with someone's underwear in its mouth. Suzanne can be found on-line at:
www.suzannewoodsfisher.com
.
My Thoughts About This Book: I have been a huge fan of Suzanne Woods Fisher since I read my first book by her and this one does not disappoint. It has all of the things for a perfect heart capturing story. There is a love gone wrong, a love returned, roses, Christmas, and Amish. I felt as if I was right there with the characters and could not put the book down once I sat down and settled in to read. I especially loved the addition of the character George. The whole book was Excellent! Having read other Rose Hill Farm books I recognized the characters and that was an added benefit, yet one could read this as a stand alone and understand the past references in the plot.
Disclosure of Material Connection: I received this book free from Litfuse, as part of their Book Review Blogger Program. I was not required to write a positive review. The opinions I have expressed are my own. I am disclosing this in accordance with the Federal Trade Commission's 16 CFR, Part 255: "Guides Concerning the Use of Endorsements and Testimonials in Advertising." Thank you! Thank you! Thank you!